Everyone has heard of Yellowstone National Park – it's one of the most famous nature reserves in the United States. But when is the best time to visit Yellowstone? Does the time of year affect what animals you'll see? Should you avoid or aim for the peak tourist times of the year?
Yellowstone is famous for not only its geysers and hot springs but also the wildlife that populates it. If you love animals, Yellowstone National Park should be on your bucket list. And chances are, if you love nature even a little bit, you probably want to visit it at least once in your life.
There are a plethora of different species to see in Yellowstone, including endangered ones such as gray wolves, grizzly bears, and the Canada lynx. Within Yellowstone, there are about 300 species of birds, 16 species of fish, 67 different species of mammals, 6 reptile species, and 5 species of amphibians.
But if you want to see all of them in their natural habitat, you'll need to know which time — or times — are the best time to visit Yellowstone. To answer this question, we've put together a list of the very best times to visit Yellowstone in order to see various kinds of wildlife.
SAFETY RULES FOR VIEWING WILDLIFE
Safety always comes first, so before we get into the best time to visit Yellowstone for wildlife watching, we have some rules and tips for you to follow.
First and foremost of the rules when viewing wildlife is to keep your distance. It's against the rules of the park to get closer than 100 yards to bears and wolves, or 25 yards of any other wildlife you see.
These rules are for both for your safety and that of the animals. Disturbing them can cause distress to them, and in some cases, may cause them to attack. So please keep your distance.
Bring a pair of binoculars, so you can get a good look while still maintaining a safe distance between you and the animals you see. Also, bring bear repellent if you plan on hiking or camping.
The second rule is no littering or feeding the animals. Keep your food items, garbage, and any other item with a scent that might attract animals sealed and stored safely away when not in use.
Rule three is to stay on the boardwalks and trails, especially in thermal areas like geysers and hot springs. Water temperatures in these areas can be deadly, so please stay out of the water.
And finally, when you're driving along the roads and see something of interest, make sure you pull into the designated pullout areas, so you don't block traffic.
We highly recommended that you view animals from the safety of your vehicle, especially bears. Do not get out of your car if any animal is nearby.
For more park rules and regulations, check out the National Park Services Website page.
​HOW WE CHOSE OUR RATINGS
In order to better help you plan your trip for the best time to visit Yellowstone to see wildlife, we kept a few things in mind.
First, we wanted to choose times when you'd see the most diverse types of wildlife. Season and weather affect which animals will be out and about. So, we chose times when you'll see a wide variety of different animals rather than just a lot of the same species.
We also ranked the times we chose based on when there will be the fewest limitations on where you can go and what services the park offers. Certain activities and park services shut down for the winter months, as do the roads to regular vehicles.
And finally, we tried to choose the times of the year when you won't have to fight with the tourist crowds. Dealing with large crowds can be frustrating and can seriously impact which animals you'll be able to see and when.
​TOP 5 BEST MONTHS FOR VIEWING WILDLIFE IN YELLOWSTONE
It's time to get to the heart of the matter and answer your question — when is the best time to visit Yellowstone if you want to see wildlife? This section is not in chronological order, as the season doesn't necessarily indicate how much wildlife you'll get to see.
1. May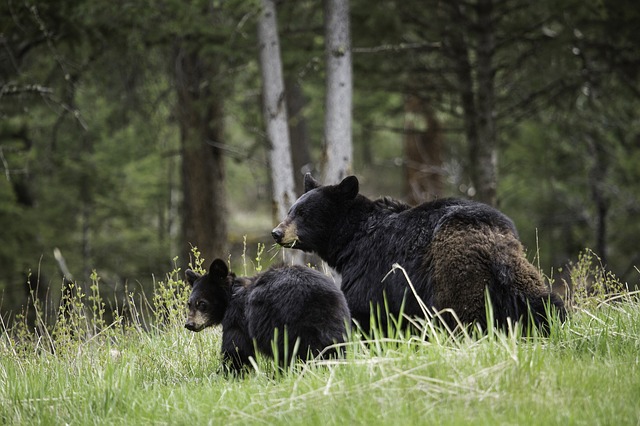 ​​CC0 by Skeeve via Pixabay
Springtime is a great time to visit Yellowstone, and May is the best spring month. There is one big reason for this — baby animals everywhere! You'll have to chance to spot baby moose, elk, bison, and pronghorn.
May is also the time when gray wolf pups come out of their dens, so head over to Lamar Valley and keep your eyes open. You'll also see birds returning to the area and head the songs of chorus frogs. Wildflowers will also be blooming.
The best ways to view wildlife in May are fishing and hiking. Bring warm clothing, as the average high is in the 50s Fahrenheit. Guided tours also begin this month. But tourism is still moderate, so the park won't get over-crowded until after Memorial Day. May is the best time to visit Yellowstone for animal watching, so it gets 5.0 out of 5 stars.
​2. JUNE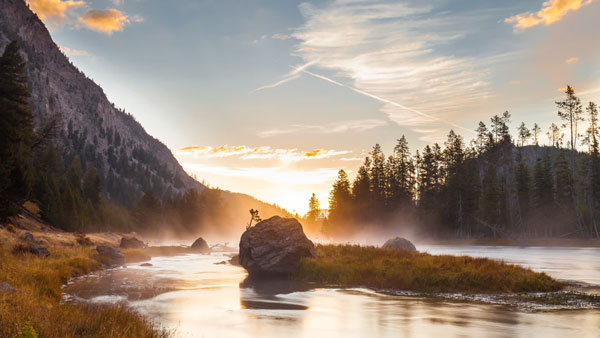 Although June is one of the busier months at Yellowstone, the early part of the month is not too bad. It also marks the start when all services are available. Temperatures are warming up with the highs in the 60s range. Boating, fishing, and hiking are all available to you for wildlife viewing.
Songbirds are plentiful in June, as are herds of bison, elk, and other grazers. You won't see as many wolves or bears around, however — bears migrate into the mountains for summertime.
June is the start of trout spawning, and you may also spot baby mountain goats and bighorn sheep. Waterfalls are in full volume and wildflowers are really starting to bloom.
Although a much busier month and a lack of bears, June offers more park services and opportunities for wildlife viewing, granting it 4.5 of 5 stars for the best time to visit Yellowstone.
​3. APRIL
April, even more than May, is a cold month in Yellowstone National Park, so make sure you bundle up if you visit at this time. But it's also a low tourism time, even though all roads open to regular vehicles starting mid-month. April ranks high on our list because you start seeing a lot of different species migrating back in or coming out of hibernation.
Wolves tend to be out more in winter months, so April is a good time to spot them without freezing your bum off. April also marks the time of year when grizzly bears are out and about from hibernation. Black bears are also coming out of the dens in April.
You'll start seeing birds flying back in and start hearing the first chorus frogs of the season. You have the chance to spot baby bison and see the elk males with their antlers in velvet.
The best way to see animals in April is to hike. April gets 4.5 out of 5 stars for the best time to visit Yellowstone.
​4. OCTOBER
Fall is the second best time to visit Yellowstone if you want to see the most animals. October is the best of the fall months for a few reasons. Mosquito populations are way down in October, especially with snow highly likely later in the month. Temperature highs are in the upper 40s, and fall colors are in full swing, so the scenery is beautiful.
You have a great chance of spotting grizzly and black bears along the roads and in the roadside meadows. Wolves are also more populous at this time, and you can still see elk and moose as well. Keep your eyes on the skies to see migrating birds of prey, especially in Hayden Valley.
The crowds of tourists are much smaller at this time, but many services are no longer available. Hiking and fishing are your best activities for viewing wildlife. October earns 4.5 out of 5 stars as the best time to visit Yellowstone National Park.
​5. SEPTEMBER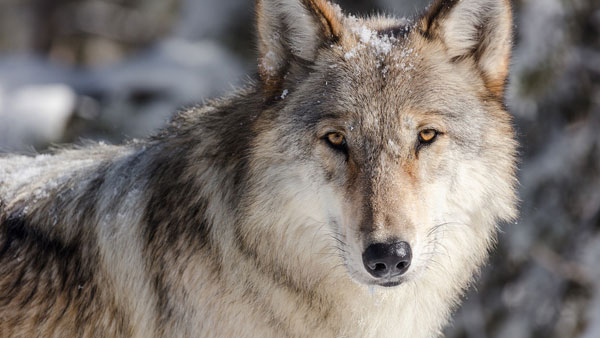 ​September is a good month for wildlife watching in Yellowstone because most activities are still available until the middle of the month, and no roads are closed yet. Guided trips and boating are still viable options for seeing animals as well as hiking and fishing.
September marks the start of raptor migration and mosquito population decline. It's also when bears are coming down from the mountains. You may not see too many wolves, but you will be in time for elk mating season in Mammoth Hot Springs area.
While not the highest on our list for the best time to visit Yellowstone, September is still a good month to go, especially since tourist crowds are lessening. This earns September 4.0 out of 5 stars.
​TRAVELER'S GUIDE
Before you begin planning your trip to Yellowstone, we have a few parting tips for you to help make your trip the most rewarding it can be in terms of seeing most of the wildlife.
The absolute best times of day for wildlife viewing are dawn and dusk. Many animals come out to feed during these times and are therefore more active. Dawn is superior to dusk, especially for bird watchers.
There are also places in Yellowstone that are better than others for wildlife watching. The best are Lamar Valley, Hayden Valley, and the Mammoth Hot Springs. Animals you might spot in these areas include wolves, birds of prey, bison, bears, elk, mule deer, bighorn sheep, water birds, and pronghorn.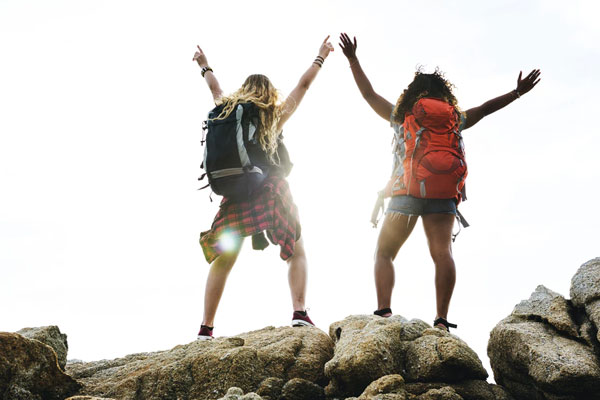 If you decide to trek the park alone, try looking in some less tourist-populated areas. The big attractions aren't always the best for seeing the best variety of wildlife.
Sometimes tourist groups can come in handy, however. If you spot a group of people all looking through their binoculars, stop by and take a look — they may have spotted something of interest.
As we mentioned in our safety tips, you're going to need binoculars, a really good camera, and bear repellant. We also recommend bug spray.
Finally, utilize ranger stations to learn about recent animal sightings. It also won't hurt to talk to other visitors, especially photographers, about any animals they've recently spotted.
That's it for our guide, but you can also get more information by checking out the National Park Service's website. We recommend starting with their Wildlife Viewing page.
We hope you found our list of the best time to visit Yellowstone helpful to your wildlife viewing experience. We wish you luck in your search and safe travels.
​THE BEST TIME TO VISIT YELLOWSTONE FOR ANIMAL ENTHUSIASTS
And there you have it, the five best months for wildlife watching in Yellowstone National Park. Although no winter months and only one summer month made our list, that does not mean that these times are bad for animal watching. For those curious to see what Yellowstone has to offer all year round, check out the Seasonal Highlights page from the National Park Service website.