[amazon box=" B077ZKF9LC, B00F5ENDC8, B07636768T, B01DYYCX6M, B00005OU9D, B001DC5HG6, B014OW7106, B01C5QSENQ, " template="table"]
Whether you're heading out for a solo adventure, a trek with friends or a memory-making excursion with the family, camping is an exciting hobby that allows you to explore and enjoy the great outdoors. If you're new to camping, you may find that you need a bit of assistance when it comes to gearing up and packing for your trip.
While this certainly isn't an exhaustive list of all the available best camping gear and supplies you can find on the market, it's a great starting place for gathering the basics to make your camping trip truly enjoyable.
Read on for our top recommendations of best camping gear as you head out on that first adventure.
How We Reviewed For The Best Camping Gear
Equipment that doesn't perform or meet expectations could quickly turn your first camping trip into a less-than-enjoyable experience.
That's why we've spent several hours diving deep into the world of camping gear to pinpoint the best items that have been tested by both experts and fellow campers alike. We've sifted through innumerable user reviews so that we can pass on what the everyday camper loved and loathed about each purchase.
Product

Image

Rating

Price

Coleman Sundome 4-Person Tent

Wenzel Blue Jay Sleeping Bag

GreenTEC USA Premium Self-Inflating Sleeping Pad

TripWorthy

Compact First Aid Kit

Stansport Aluminum Percolator Coffee Pot

MalloMe

Premium Marshmallow Roasting Sticks

Etekcit

y

Portable LED Camping Lantern Flashlights
Camping 101: The 8 Best Camping Gear for Beginners
Tent: COLEMAN SUNDOME 4-PERSON TENT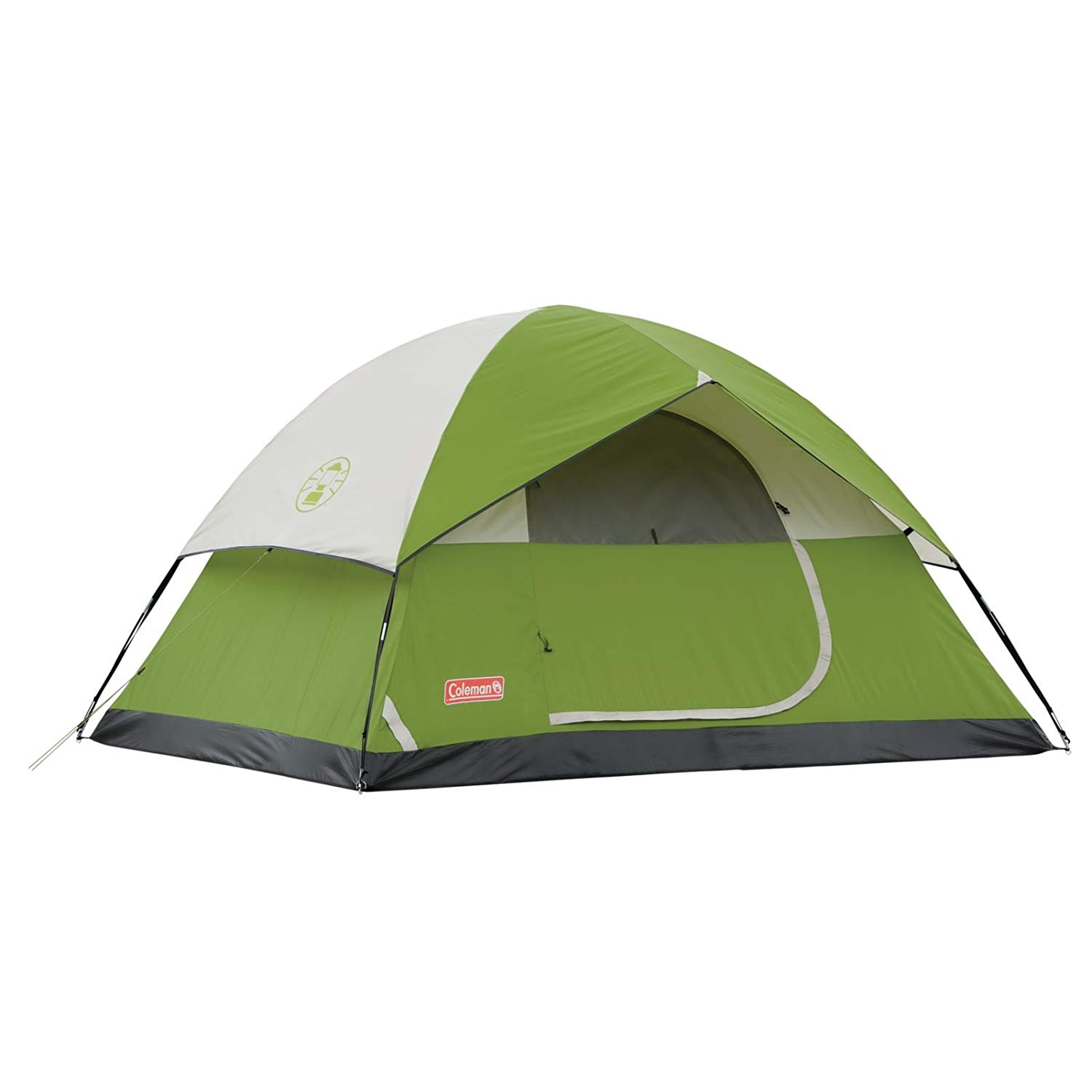 Why You Need It
One of your basic camping needs will be the shelter to protect you from the elements while you live under the stars. Manufactured by a well-known outdoor goods brand that you likely recognize, this four-person model is a great deal for new camping enthusiasts.
Coleman boasts that their Sundome is easily assembled in as little as 10 minutes. This is likely how long it takes two adults to construct the tent, as some owners of the structure report they were able to set it up on their own with little trouble in roughly 15 minutes.
Furthermore, the tent is built with Coleman's WeatherTek system, which means the floors have a patented welded construction and are made of a durable tarp-like material that keeps water from seeping in. In fact, most users of this tent say they've had little issue with water finding its way inside.
However, the biggest downside to this choice is that even though it's listed as a four-person tent, you would struggle with actually fitting four people inside to sleep. It will comfortably hold a queen-sized air mattress and some of your needed gear.
Also, if you need space for four sleepers, you may want to consider a model sized for six campers.
Sleeping Bag: Wenzel Blue Jay Sleeping Bag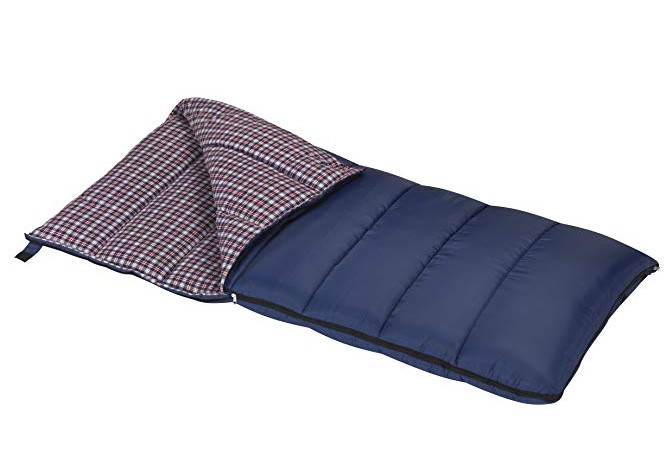 Why You Need It
You'll find that a slew of choices abound when it comes time to choose the sleeping bag you'll snuggle up in after the sun sets. There are a few things we love about this option from Wenzel.
The bag is built to perform with a temperature rating of 25 degrees Fahrenheit, meaning it keeps you toasty if the temperature begins to drop.
Furthermore, another plus is that it can be fully unzipped and used as a regular blanket on nights when the temperature remains warmer.
Moreover, the interior is crafted of a soft flannel fabric that owners note as being pleasant to the touch.
Accordingly, if your idea of the perfect camping trip entails being snuggled up with that special someone, check out double sleeping bags. Here is an option from Sleepingo.
Sleeping Pad: GreenTEC USA Premium Self-Inflating Sleeping Pad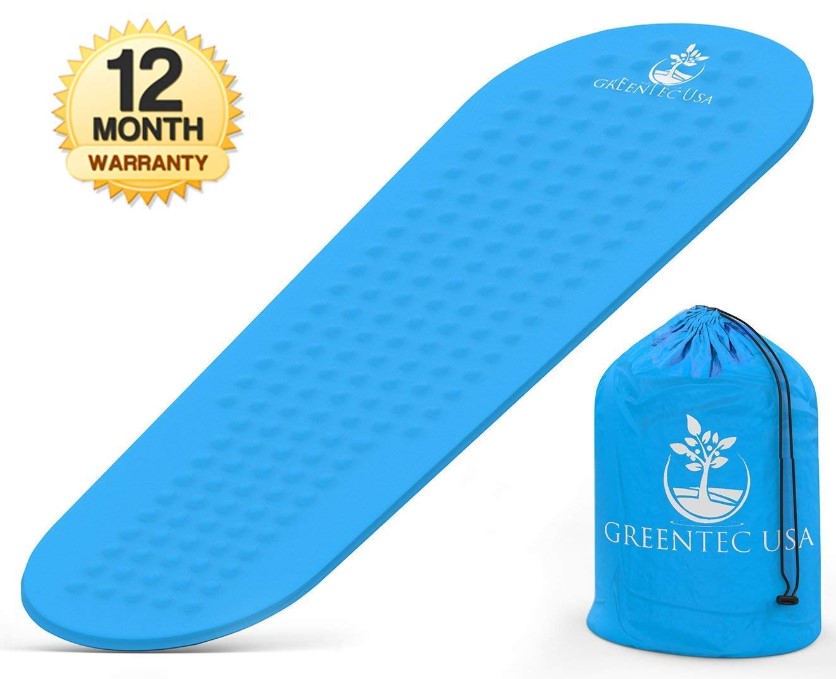 Why You Need It
Perhaps you find comfort in having as little between the ground and yourself as possible when spending time in nature. For the rest of us, a little bit of support and padding makes the difference between getting a full night's rest and waking up with aches everywhere.
That's where an air mattress or sleeping pad comes into play.
We recommend opting for a sleeping pad over an air mattress, mostly because an air mattress could require you to bring along an air pump, which is just one more piece of gear to acquire and carry with you.
Additionally, this model from GreenTEC is self-inflating, so no pump or incredibly strong lungs are required.
Moreover, campers who have used the pad say it's comfortable to sleep on and provides just the right amount of padding.
The biggest complaint is that it doesn't actually seem to completely inflate on its own; however, with just a few small puffs, you can easily fill it to capacity without becoming winded.
First Aid Kit: TripWorthy Compact First Aid Kit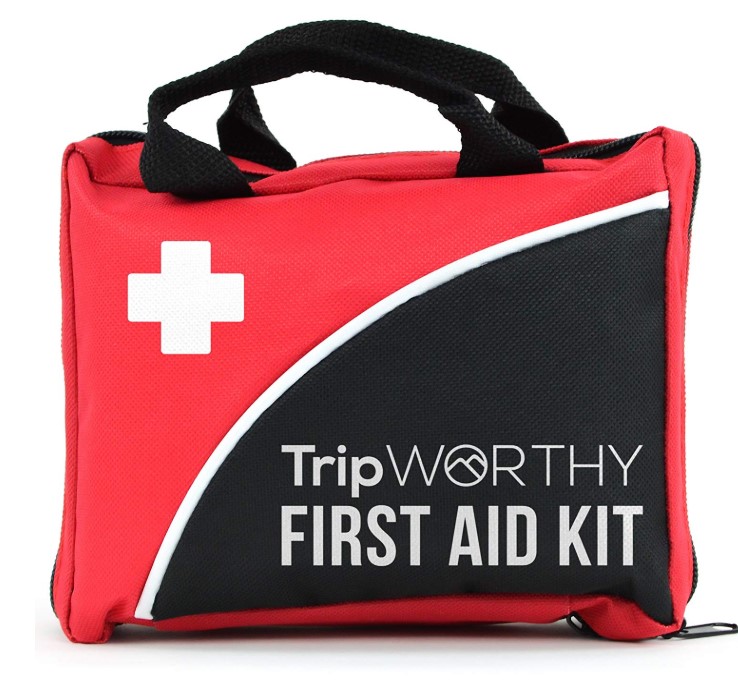 Why You Need It
If you don't already have one of these kits in your arsenal, you should get one regardless if it's meant for camping adventures or not.
Perfect while you're out in the wild, or also just for storing in your car, a first aid kit is a necessity for being prepared for any minor emergencies or injuries.
Accordingly, TripWorthy's kit packs bandages, ointments, wipes and other small must-haves that you may not think of on your own.
Portable Cooking Stove: Coleman Classic Propane Stove
Why You Need It
Depending on how many days and nights you'll be camping out, you may want to do some cooking at your site. A portable camp stove is perfect for creating both simple and more complex camp meals.
This classic option from Coleman has long been a go-to piece of cooking gear for many campers. The stove is fueled by propane cylinders, which are purchased separately, and allow for cooking at the same time with both a 10-inch and 12-inch pan.
Moreover, the two burners can be adjusted independently. So that you can cook two different items at varying temperatures. The cooking grate is removable for quick and easy cleanup.
Portable Coffee Maker: Stansport Aluminum Percolator Coffee Pot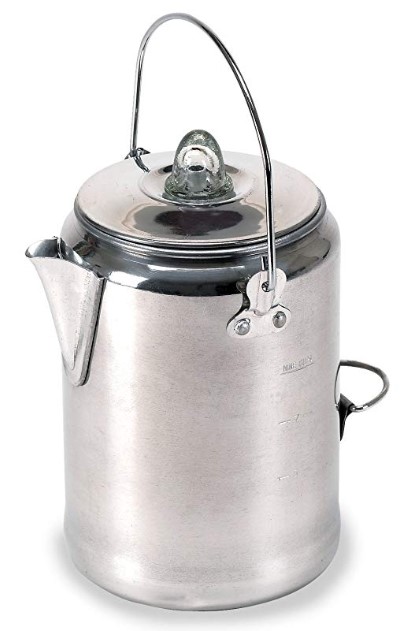 Why You Need It
If, like us, you need your daily caffeine fix to get you up and moving in the morning, then coffee after a night in nature will be a must.
This percolator model from Stansport allows you to brew nine cups of your favorite grind over the burner on your camp stove, or even on your open campfire. Additionally, several users of the pot have even mentioned that they love the taste and experience of using it so much that they often turn to it for great coffee back home in their kitchens.
However, there is a learning curve when it comes to using a percolator. So it may be a good idea to give it a try or two at home before relying on it once you're already out on your trip.
Campfire Roasting Sticks: MalloMe Premium Marshmallow Roasting Sticks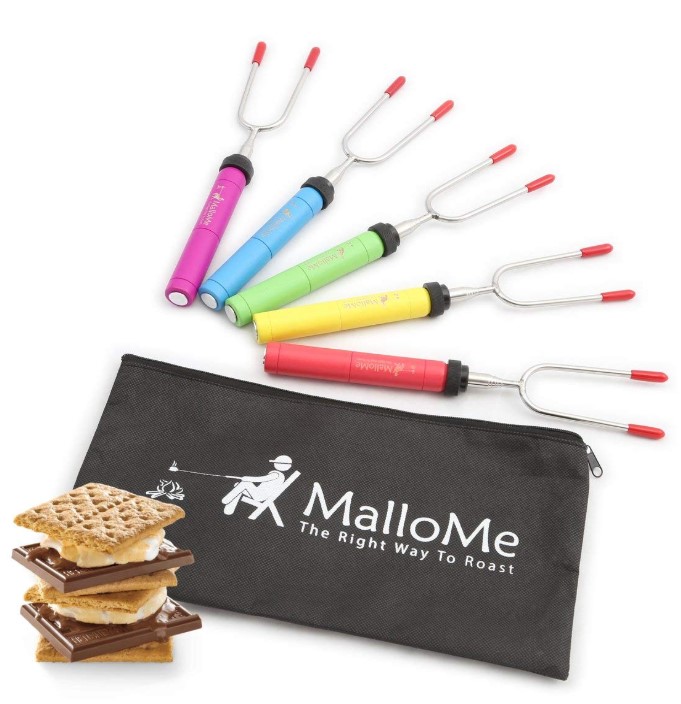 Why You Need It
What's a campfire without perfectly and deliciously roasted marshmallows and wiener dogs?
If you're going to invest in roasting sticks to help you achieve that perfect s'more or campfire hot dog, then choosing ones that are both safe and easily storable is key.
This set of five from MalloMe doesn't disappoint when it comes to both of those concerns. Additionally, they collapse and even come with a small bag for storage when they're not in use.
Moreover, they extend to a 34-inch length to ensure that both adults and children remain a safe distance from the fire while they cook their treats. Also, each of the sticks has a different colored handle so that everyone in your group can easily keep track of their own.
The main downside to the product is that they aren't dishwasher safe.
Lantern : Etekcity Portable LED Camping Lantern Flashlights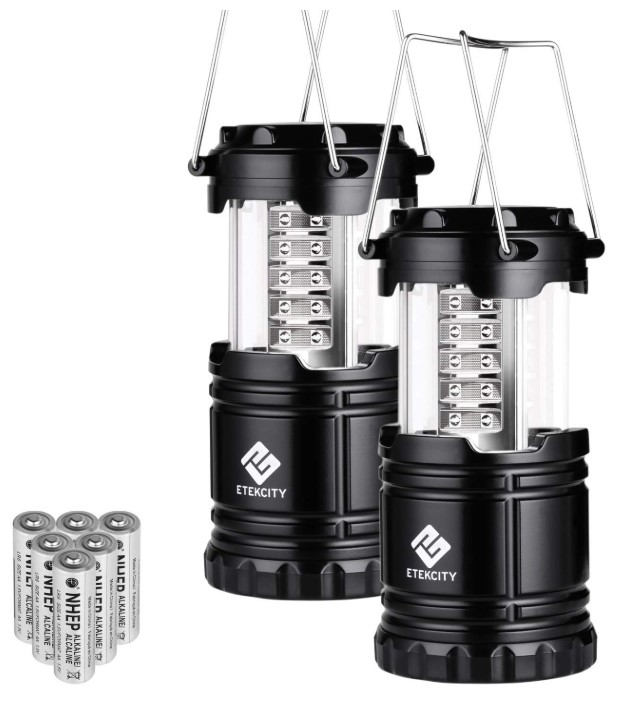 Why You Need It
Bringing along a reliable light source for your camping trip will prove imperative once the sun goes down.
Lanterns are a great choice. They can be used while your friends and family are gathered around the fire or a table for games. Also, they can accompany you on a night walk or sunset hike and can light up your tent before bedtime.
Furthermore, these lights are a smaller size and very lightweight, but they're also collapsible, making them incredibly portable and easily storable. Additionally, the lanterns are powered by 30 individual lights that are LEDs. This creates light that is long-lasting and impressively bright.
Moreover, with their price and utility, it's almost difficult to find a complaint with these. However, their largest negative is they aren't waterproof, so keeping them out of the elements as much as possible is important.
First-Time Camper FAQs
If you're relatively new to camping, or even if it's been years since your last trip, you likely have some questions. Read on to find our answers to some of the most commonly asked questions below.
I'm a camping newbie. How much gear do I really need for my trip?
We love camping, and we definitely love collecting and trying out all of the affiliated gear that goes along with it.
It's easy to get carried away when prepping for a trip, but rest assured that it isn't necessary to have every last piece of gear for your initial excursions. We recommend focusing first on taking care of basic needs as you start out as a camper.
Think about things like shelter, warmth, food, safety and after-dark lighting. If your budget is on the low end, or you won't use it frequently, borrowing any equipment that you can from a friend or family member is also a great option.
Where is the best place to buy camping equipment?
Nearly anything can be found on Amazon, and we include links to their site for all of our top recommended items. Other great choices for gear include both local and big-box hunting, camping and recreational stores.
These are particularly great options if you want to see and touch the items before committing to a purchase
How much will a camping hobby cost me?
If you're purchasing for multiple family members, that price would increase. You can truly make this hobby as expensive or inexpensive as you'd like.
Borrowing gear from others and utilizing items that you already have at home can save you some money.
I'm planning my first camping trip. Where should I go?
You have so many options for great camping locations. You can check out campgrounds both near to and far away from your home, some national parks offer camping, or you can even have a convenient campout in your own backyard.
The Cost of Camping Gear
Just like with most any endeavor, you can spend as much or as little as you'd like to procure camping gear. All of our top recommended best camping gear is not only highly-rated by many fellow campers, but each piece has a good price and is a value for your money.
The items on this list range in price.
Our Final Word Before You Embark on Your Camping Trip
Finally, as you get started with building your own stash of camp supplies, don't forget to check our list.
While you plan, just remember to keep the most important necessities in mind: shelter, warmth, food, lighting and safety. Even just meeting your basic needs in these categories ensures your experience will be an enjoyable and memory-filled camping adventure.
After reading the best camping gear you can get on our list, go ahead and choose what works for you.
[amazon box=" B077ZKF9LC, B00F5ENDC8, B07636768T, B01DYYCX6M, B00005OU9D, B001DC5HG6, B014OW7106, B01C5QSENQ, " template="table"]