With the end of social distancing in sight, many plan to get away in the coming months if for no other reason than to stop staring at our walls. For many, though, social distancing is still a reality, which is why National Park travel packages are a great option.
National Parks offer tons of outdoor activities that give us the best of both worlds. We can still maintain some distance while also existing beyond the confines of our homes and backyards.
What Do I Need to Know About National Park Travel Packages?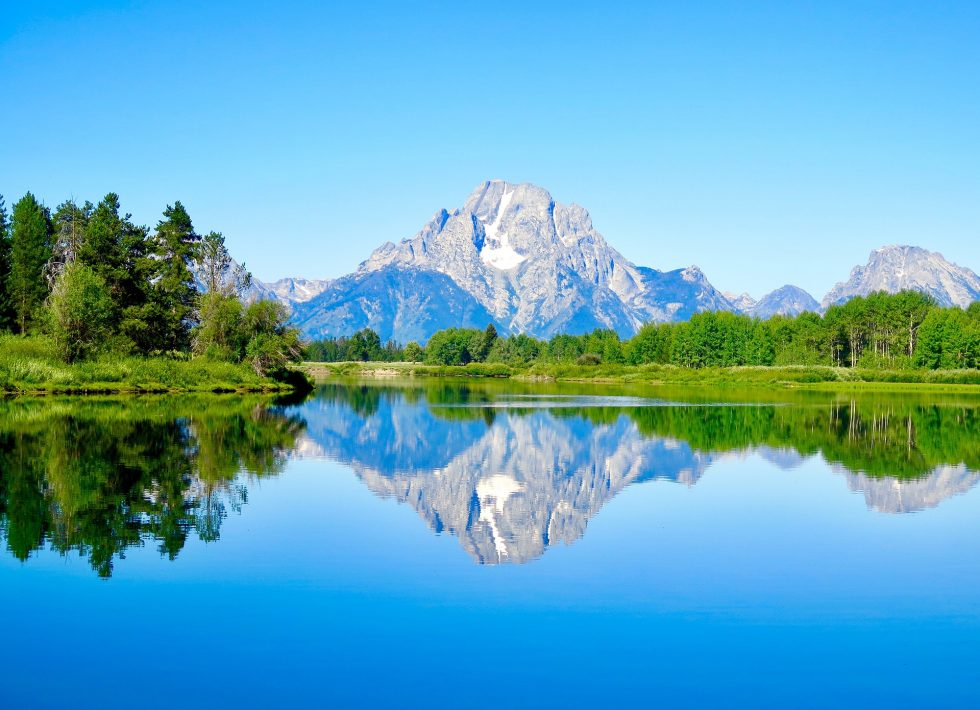 National Parks have a tremendous number of activities to keep you busy.
Plus, with so many options, you can quickly join in on the activities that suit you without sacrificing the whole trip to appeal to just part of your group.
National parks typically have a variety of local places to stay. In many situations, you can rent RVs, cabins, camp, or stay at local establishments.
Also, many times the activities are guided tours you must plan well in advance. Therefore, if you know you want to travel, it is best to get those reservations right away, so you do not miss out.
Also, it is vital to think about your transportation. If you go with a fully guided tour, your travel and accommodations are covered.
However, if you are piecing together your trip on your own, you must think about how you are getting there and back. If you opt to do it yourself, remember to see what else you can squeeze in on your travels.
National Park Travel Packages: The Grand Canyon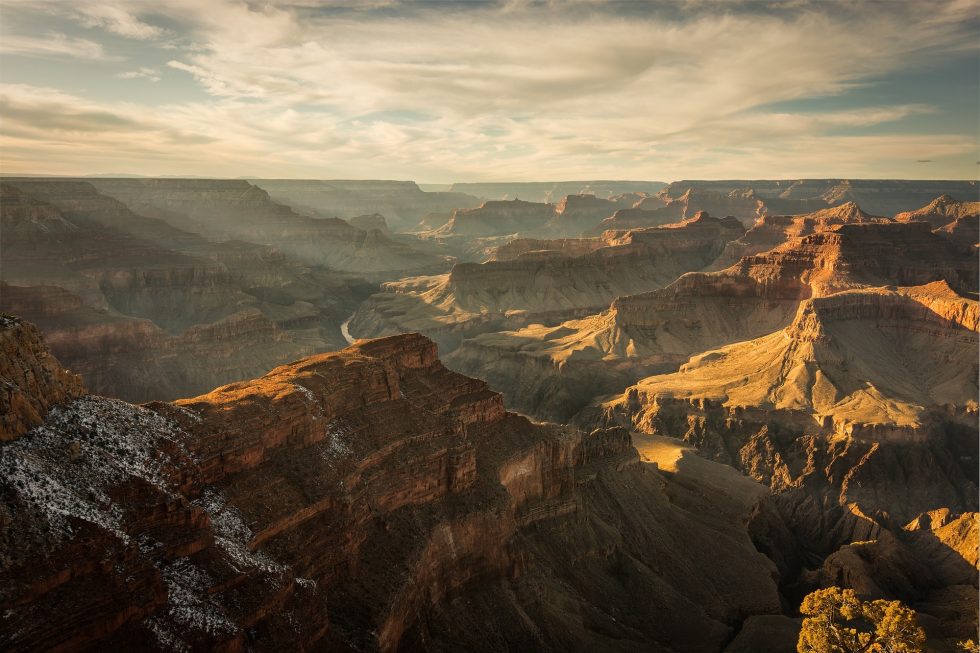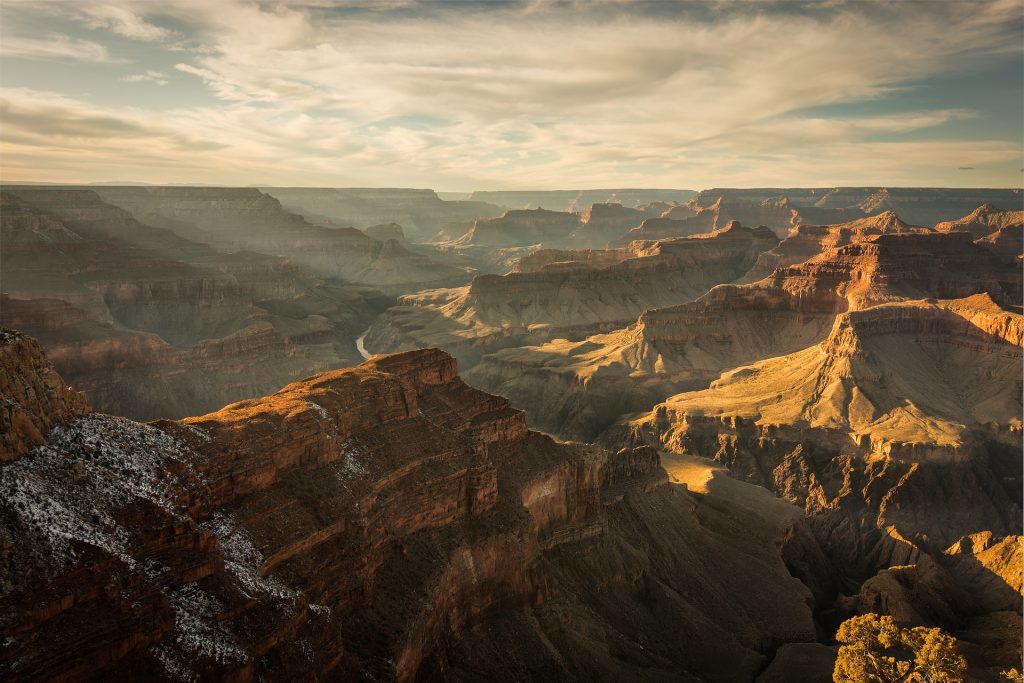 If you need National Park travel packages, you will not be disappointed with all you can do at the Grand Canyon.
The Grand Canyon is a natural wonder and a perfect spot for adventurous outdoor families, couples, or even solo travelers.
There are countless ways to take in the beauty of the Grand Canyon.
First, consider the options for helicopter rides over the Grand Canyon to get an up-close and personal view.
If being in the air is not your style, there are several Hummer or Jeep tours, as well.
Don't forget about white water rafting, hiking, dirt bike rides, hiking, and safari-type tours, as well.
With a vast array of options, there is enough to do to please the whole family.
Keep in mind, though, this trip involves a lot of activity. If you travel with someone who prefers more downtime, be sure to work in quiet time to simply drink in the views.
What you need to know
Keep an eye on the weather for the time of year you intend to travel.
Parts of the National Park are closed in the winter, and there are crowds during the busy summer months when it gets very hot.
Also, unless you have a lot of practice hiking, plan to build some endurance for the several-hour hike both up and down the canyon. The climb is strenuous.
Related Read: The Best Time to Visit the Grand Canyon for Stunning Landscapes
Where to stay and how to get there
If you prefer a planned trip, consider a package trip that allows you to see Las Vegas, Zion National Park, and the Grand Canyon. This guided tour takes the stress out of planning and hits the highlights in all three places.
If you prefer to piece together your trip with your own flair, consider taking the train from the historical Williams Depot into the Grand Canyon.
The train stops and the Grand Canyon Depot, and right behind the depot s the El Tovar Hotel right on the rim of the Grand Canyon.
If you wish for something more rustic, consider one of the many RV parks right on the edge of the canyon. You can easily rent an RV locally if you don't have your own.
National Park Travel Packages: Zion National Park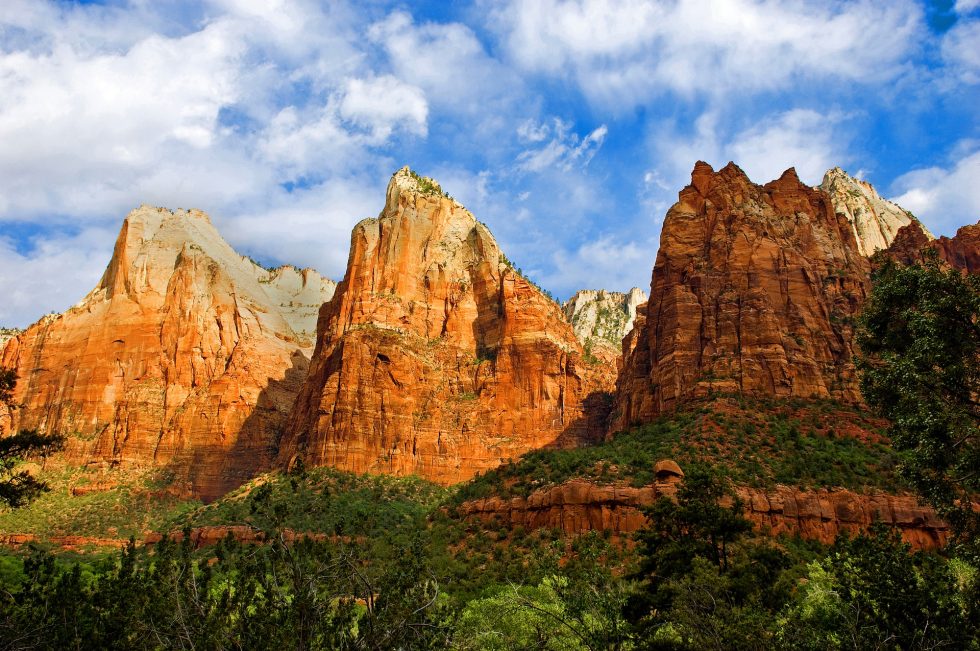 Zion National Park is Canyon country with plateaus, canyons, rivers, and sandstone cliffs.
With unique species of plants and wildlife along with the unique geological formations, the cultural and natural resources at Zion National Park will make adventurous travelers excited to abandon their backyards.
Consider taking one of many canyon adventure tours where you can look up through narrow slots and peek at the sky. Some of the canyon tours are on ATVs, while others require some rope climbing experience.
The sandstone caves are a big hit, as are the private jeep tours at sunset.
What you need to know
Zion National Park is busy during the summer and fall. The winter and spring have fewer travelers, but the water levels are high in the spring. High water levels could cut off access to some parts of the park.
Next, remember this park has many different areas over a large area. If you are only at Zion National Park for a short time, pick your must-see areas and focus on them first.
Parking a personal vehicle is a challenge when the park is busy.
However, there are several free buses to get you through the park. Having a personal vehicle is ideal, though, because some other parks are nearby, and some are remote.
If possible, consider renting an RV or camper or bringing your own. Having transportation and a place to sleep is ideal and opens up the possibility of spontaneity without having to redo travel plans.
Where to stay and how to get there
If staying in an RV is not your style, there are several hotels within the park or nearby. If you opt for being in the park, you will likely have access to several parts of the area on foot.
Also, shuttles run within the park to reach remote areas.
If you are not driving, the closest airport to Zion National Park is McCarran International Airport in Las Vegas.
However, the tour we mentioned above travels from Las Vegas to Zion National Park and the Grand Canyon. If you were hoping for a more extended tour that includes Zion National Park, consider one that hits Yellowstone National Park
National Park Travel Packages: Yosemite National Park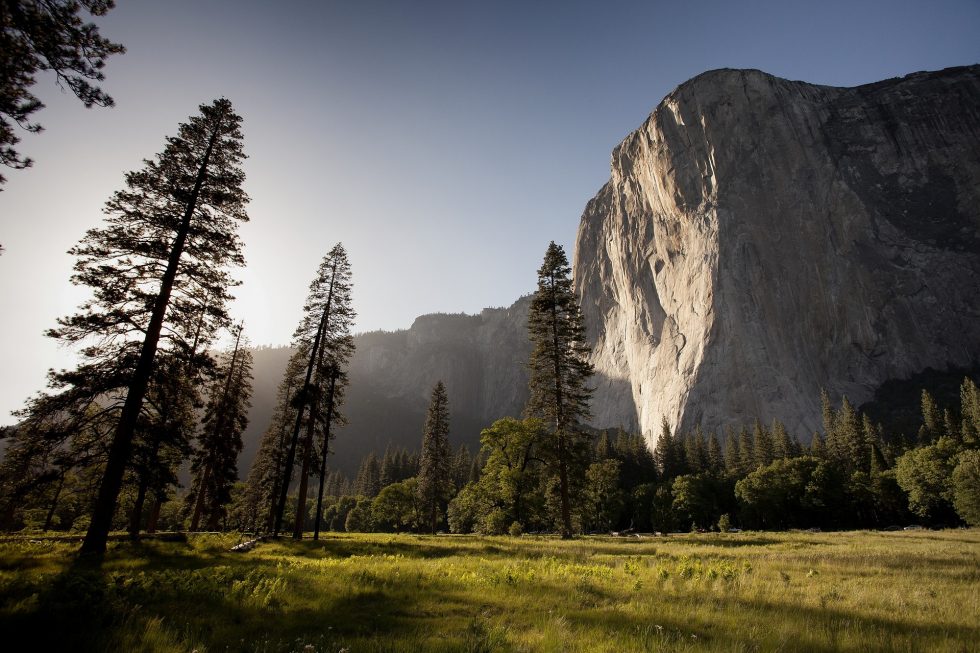 Yosemite National Park is full of both exciting and laid-back things to do, and there is something for literally everyone in your group.
Yosemite is in the Sierra Nevada mountains in California. You can expect to see mountains, waterfalls, rivers, and giant sequoia trees, to name only a few.
Yosemite National Park is home to Half Dome and El Capitan and offers hiking, backpacking, and lakes.
The park itself provides a tremendous array of guided tours through all of the attractions. However, visitors are free to take solo excursions at their leisure.
For instance, you can spend an entire day hiking to the top of Yosemite Falls. Prepare to be stunned.
What you need to know
The first tip for a successful visit to Yosemite is to plan ahead. Campgrounds are usually booked in advance, as are the tours. This is especially true if you are staying in the Valley of Yosemite.
If you plan to stay in the Valley, know that you have access to pretty much anything you need for yourself and your crew. There are grocery stores, shops, and even camping and mountaineering equipment shops. You can pack light if you intend to stay local.
Be aware that a trip to Yosemite, especially during the high season, means you are not alone in the woods. This National Park sees close to four million visitors every year.
Despite the crowds, with the vast selection of things to do and hikes, there are plenty of opportunities for quiet.
Related Read: Best Time to Visit Yosemite: Tips for Every Season
Where to stay and how to get there
As mentioned, there are plenty of campgrounds from which to choose, as long as you plan your reservation in advance. There are plenty of RV rentals in the areas if tent camping is not your style. However, you can always bring your own RV, as well.
Furthermore, there are several hotel lodges in the Valley. Although if you want to glamp with extra amenities, consider a canvas tent village that crosses between hotel and tent camping.
If you want a tour package that takes the guesswork out of your trip, consider the trip we mentioned above that includes Yosemite National Park. Your other option is a California tour that covers Yosemite along with several other areas in California.
If you want to travel by air, you likely want to stay in the Valley, so you can access shops, food, and gear you do not want to pack. If you travel by car, you have a tremendous amount of lodging from which to choose.
National Park Travel Packages: Yellowstone National Park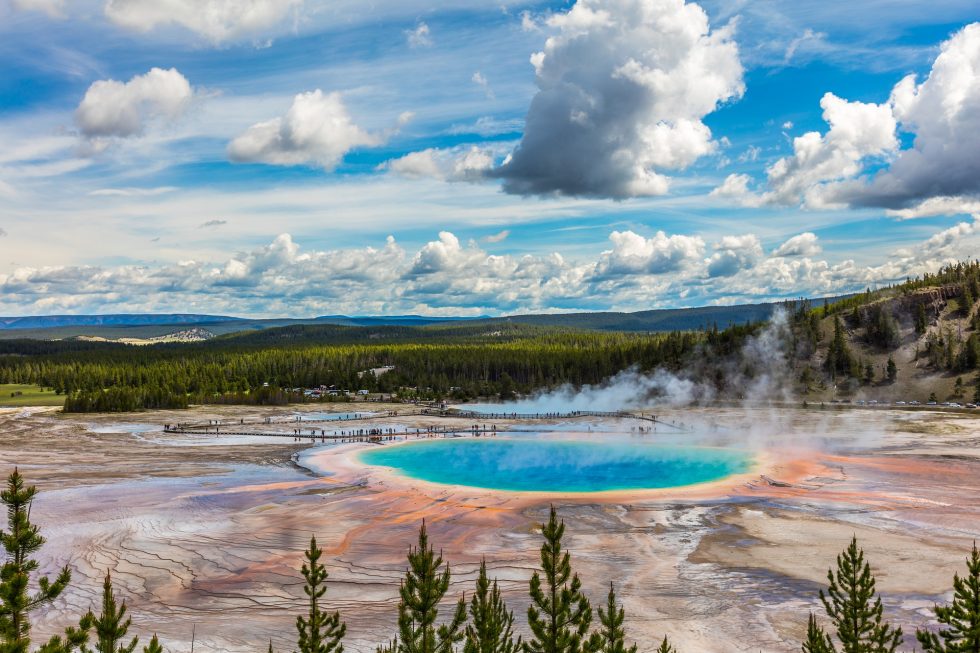 Between white water rafting, canyon hikes, kayaking, and the geysers, along with literally everything else you can imagine, Yellowstone National Park needs to be high on your list.
Yellowstone National Park the first National Park in the United States, and it hosts millions of people each year.
The area includes valleys, rivers, wildlife, and rare geological features.
Yellowstone is a large National Park with many adventurous options. Therefore, it is appealing to various visitors.
What you need to know
Yellowstone is one of those places you must plan to visit well in advance. If you know you want to see it this year, it is best to book your trip as soon as possible.
Also, be careful with the hot springs. The water is quite hot, and boiling hot water is well known to cause burns. Most people think it is the wild animals they have to watch out for rather than boiling water shooting into the air. To be fair, watch out for wild animals, too.
Yellowstone National Park is a busy park, especially in its peak season. Although some areas are more active than others, and if you are strategic about your travel plans, you can avoid crowds.
For instance, the big-ticket sites allow people to drive right up to the area. However, you can also hike in and avoid the crowd.
Related Read: Things to Do in Yellowstone: 13 Awesome Ideas
Where to stay and how to get there
If you and your crew prefer the outdoors, you can always tent camp at Yellowstone. However, if you choose to take the middle ground, look into renting an RV.
If you like the idea of the outdoors but want extra amenities after a long day of exploring, there are several hotels and lodges within the park itself and nearby.
There are tour packages, as well. Consider a National Park tour that includes Yellowstone and the Grand Teton National Park.
National Park Travel Packages: Grand Teton National Park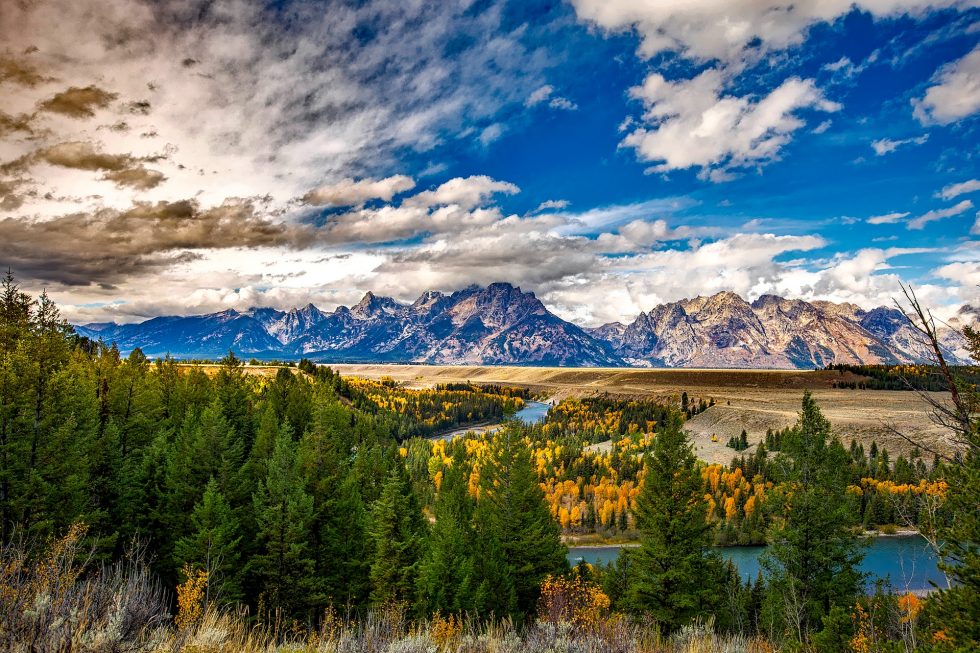 The Grand Teton National Park includes several mountain peaks of the Teton Range and the valley of Jackson Hole in the Rockey Mountains.
Something unique and special about this National Park is the ecosystem, fora, and fauna that have been in the area since prehistoric times. There is a tremendous effort in the park to protect the unique location.
The park is very popular for mountain climbing, hiking, fishing, and even backcountry packing.
The Grand Teton National Park is an excellent option for those traveling solo or in a larger group.
What you need to know
Many visitors combine a trip to Yellowstone with the Grand Teton National Park. If you wish to see both these parks and travel from the south, go to the Tetons first before continuing to Yellowstone. Swing by Idaho Falls or the Caribou-Targhee National Forst on your way out.
The Grand Teton National Park is smaller than some of the other parks we are looking at, but it has a lot to offer. Plus, its size makes it a perfect stop on a larger trip.
The park is open year-round, but it is very cold in the winter. Plan accordingly if you are planning a fall or winter trip. Plus, the winter weather might close off access via roads to the area.
Where to stay and how to get there
You could fly into the area, but know the local airports are rather small, and the flights are not cheap.
However, you could fly into Salt Lake City, rent a car or RV, and make the 5 to 6-hour drive and make the trip. If you do this, consider stopping at Lava Hot Springs on your way north.
There are several campgrounds within the park if you decided to use an RV or brought a tent. Otherwise, consider one of the nearby hotels or cabin rentals.
If you decide to go backcountry camping to get away from the world, be sure to get your permit before you head out. The park only issues a specific number of permits each day.
Pack Up and Head Out on National Park Tours
With the end of a pandemic on the horizon but social distancing still being important, looking into National Park tours makes sense.
National Parks offer a variety of activities and tours to keep everyone happy.
Plus, the views are breathtaking. After sitting at home looking at our houseplants or staring at the fence in our backyard, getting out to see the national treasures that National Parks protect sounds like a dream come true.
What national Parks do you plan to visit? Answer in the comments.