When reaching your checkpoint after a long, stunning hike through the dry heat of Arches National Park or along the mountain ridges of Rocky Mountain National Park, you sit down on a log and crave only two things: an ice cold bottle of water and a chilled sandwich. Fortunately, with a cooler backpack, you can pack enough food and drinks to feed the whole family before starting on the next leg of the hike.
In this article, we explain the design and purpose of a cooler backpack and give a few examples of popular options on the modern market. There is a wide range of cooler backpacks available, ranging from options that cost less than $50 to over $300. With this information in mind, you can decide whether or not a cooler backpack is the next item you need to purchase for your gear closet.
What Is a Cooler Backpack
Imagine combining the functionality of an ice cooler with the convenience of a backpack. The gear item is designed to transport cold food and drinks in a way that does not involve wheels or jammed handles. While the backpacks are handy for camping, they can also be used to transport supplies to other events, such as football tailgates and fireworks shows.
The backpacks come in a range of sizes, shapes and prices. When shopping for a cooler backpack, consider the following criteria:
Capacity
Some backpacks are designed for single person use, such as the IceMule Classic Small, while others, such as the Igloo RealTree Backpack Cooler, can hold 32 standard sized cans. A smaller size is a good option if you only need it for the occasional picnic or for providing your own beverages. However, if you plan to carry enough drinks and food to share or need it to last all day, a larger capacity may be better.
Insulation
The level of insulation can correlate to the price of a backpack cooler. More expensive coolers offered by brands, such as IceMule or Yeti, can keep items cold for over 24 hours, while other less expensive brands, such as Tourit, stay cold up to 16 hours.
Storage Compartments
Is the backpack only for transferring cold food and beverages, or do you plan to use it for other items such as extra clothing, phones and trail maps? Having a cooler for ice storage alone, such as an IceMule, is good if you carry a purse or have another person who can transport other items. However, if you need to carry everything in one bag, consider options such as the Polar Bear Soft Cooler.
Where To Purchase a Cooler Backpack
Cooler backpacks can be purchased online through Amazon or on other sport and outdoor specialty websites including REI and Dick's Sporting Goods. Many options are also available online through brand-specific websites. Some popular cooler backpack brands include Polar Bear, IceMule, Igloo, Otterbox, Sovaro and Coleman, amongst others. Three of our favorite cooler backpacks include the following.
[amazon link="B07BFHZ25K" title="IceMule Coolers Pro Cooler" /]
[amazon box="B07BFHZ25K"]
This cooler costs $99.95 and is 17 inches tall, 14 inches long and 11 inches wide. Overall, it has a 23-liter capacity which equates to holding about 18 cans with ice, with beverages staying cold for over 24 hours. The IceMule brand is a well-established cooler backpack brand that offers a range of sizes and colors. One feature that makes the brand unique is that the coolers close with a roll top instead of a zipper and are soft shelled. The cooler can roll up to a size smaller than a laptop when not in use. This makes it a great option for people who plan to use the cooler after a flight. It is also suitable for those on water, whether kayaking along a river or floating on a lake because it is waterproof and it floats. There is a single external pocket suitable for water bottles or other larger items. Previous customers appreciate how easy it is to travel with an IceMule backpack cooler.
Otterbox Trooper LT 30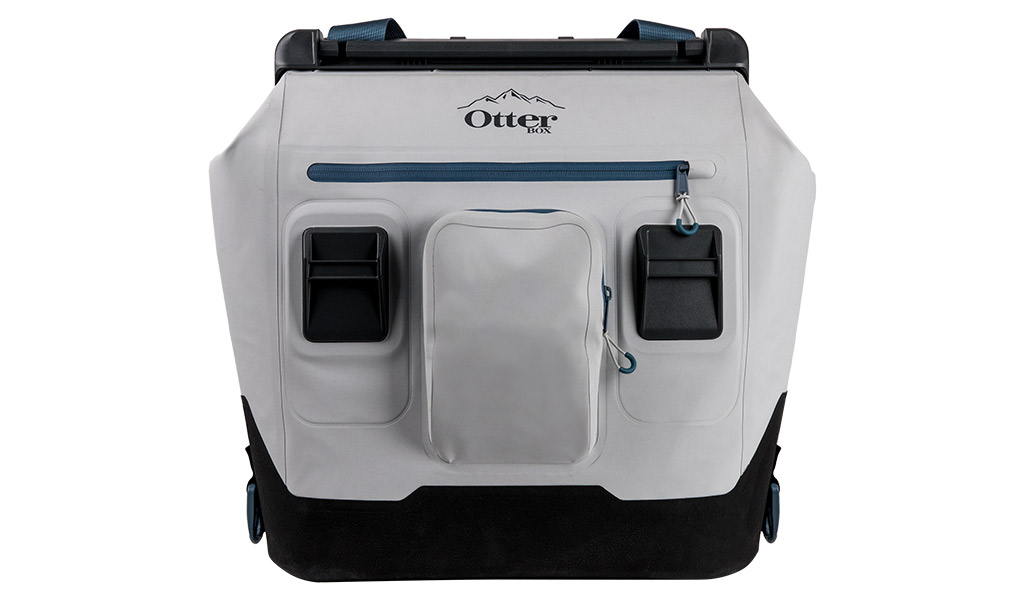 The Otterbox brand offers several cooler options, with the Trooper being a popular option for people who need to keep a large quantity of food and beverages cold. The price point of $299.99 falls at the higher end. With a capacity of over 28 liters, the cooler also keeps ice frozen and contents cold for over three days. It has a solid bottom and does not roll up like the IceMule. The Otterbox also offers more pockets, making it easy to transport a phone, map, compass and other items easily. You can carry the cooler on your back or on your shoulder. This option is a more expensive backpack cooler but is also very durable and will last for many uses. Previous customers like using the cooler to transport both food and beverages.
[amazon link="B07BT1KL7W" title="TOURIT Insulated Cooler Backpack" /]
[amazon box="B07BT1KL7W"]
The Tourit brand offers less expensive cooler backpack options, such as the Insulated Cooler Backpack at a price of $49.99. The size of this cooler is similar to the IceMule and the Otterbox at around 25 liters and has the ability to hold 21 canned beverages. However, the backpack does not stay insulated as long as the other two options, with items staying cold for up to 16 hours. This makes it a good option for day trips or afternoon events instead of all day affairs. One popular feature of this cooler is the numerous pockets on the front and sides. These pockets and the 12.2 x 7.1 x 17.5 inches size make it a popular option for hikers.
Why Use a Cooler Backpack?
The right cooler backpack can become a versatile item in your gear closet. Compact options with pockets, such as the Tourit described earlier, are good options for people going hiking. In many National Parks, such as Arches National Park, there is limited access to drinking water, and even then, the water may not be ice cold. Using a cooler backpack is one way to keep you and your hiking group hydrated and comfortable, and thus allow you to enjoy the rest of the day. One method is to leave a fully packed and iced cooler at your base camp, and throughout your visit to a park transfer items from the cooler to the backpack as needed. This may eliminate inconvenient trips into town.
Additionally, using a cooler backpack is a more effective way to use your strength and energy. Other coolers that drag by the handle sometimes require uncomfortable positioning of arms and shoulders and don't fully utilize muscles located in other parts of the body. With a cooler backpack, similar to other hiking backpacks, the wearer distributes weight through the shoulders, core, hips and legs, making it a healthier and more efficient chilled food and beverage transportation option.
Even if you initially purchase the backpack for hiking alone, you may find yourself using it for other events closer to home. The cooler comes in handy when packing fruit, sandwiches and beverages for hot afternoon soccer and baseball games. You can bring it to tailgates, graduation parties and birthday celebrations. It is also useful for other outdoor activities, such as hunting and fishing. A cooler backpack is a convenient option that can quickly replace other bulky coolers with wheels that get stuck in gravel and in the sand.
How To Use a Cooler Backpack
After purchasing a backpack, check that all zippers, snaps and linings are in excellent condition. Place a thin layer of ice or an ice pack on the bottom of the cooler. Load in the food and beverages, with more fragile items such as sandwiches or soft fruit placed near the top of the cooler and hardy items such as cans stacked near the bottom. Fill in and around the items with more ice or ice packs. Secure the top of the cooler, hoist it onto your back and then you are ready to roll.
For most cooler backpacks, it is recommended to use ice packs instead of loose ice to keep items cool. This makes the backpacks easier to clean. Additionally, an ice pack can be reused as opposed to having to constantly purchase bags of ice whenever you need cooler functionality. Popular ice pack brands include the following:
To clean the backpack, simply rinse the interior with warm water and wipe it down with a diluted bleach and water solution. Leave the cooler open in a well-ventilated space until it is completely dry.
A cooler backpack is a simple way to make your next camping trip with friends or upcoming family vacation comfortable and relaxing. They also make great coaches' gifts, Father's Day surprises and Christmas presents. There are many different options available on the modern market. Before purchasing your own backpack, consider visiting an outdoor gear store such as Cabela's or Bass Pro Shop to view and try on the backpacks in person. After purchasing the pack, clear a space in the gear closet for the latest addition until it is time for the next adventure.